This error is caused by the FreeRide Games Player becoming corrupted. Please follow these instructions to fix this issue:
1. Close the FreeRide Games player by Right Clicking the Game Player icon in the bottom right corner of your screen (next to your clock) and choose Exit.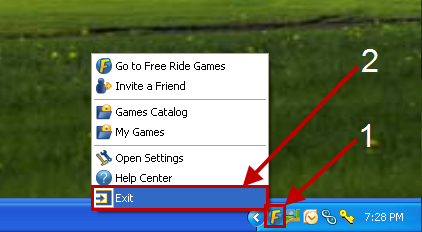 2. Go to Start > Control Panel > Add/Remove Programs
NOTE: If you have Windows Vista or Windows 7 it will be called "Programs and Features".
3. Select "Free Ride Games Player" from the list and choose "Uninstall". When prompted choose "KEEP ALL"
4. Restart your computer (this step is VERY important!)
5. Click here and choose RUN to re-install the FreeRide Games Player.