We recommend that you visit the Technical > Player Errors section of our Help Center to get specialized instructions on how to resolve most of our error messages.
However, if you simply need to uninstall and re-install our Game Player, just follow these steps:
1. Right Click on the FreeRide Games Player icon in your system tray and choose Exit (this is located in the bottom right corner of your screen next to your clock)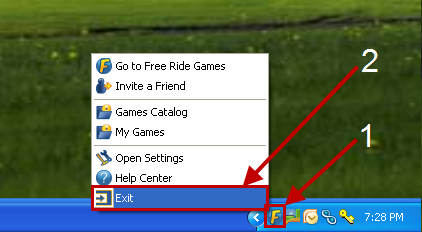 2. Go to Start > Control Panel > Add/Remove Programs
NOTE: If you have Windows Vista or Windows 7 the "Add/Remove Programs" component will be called "Programs and Features"
3. Select the FreeRide Games Player and choose Uninstall
4. Restart your Computer
5. After you have Restarted your computer, reinstall the FreeRide Game Player by clicking here and choose RUN